Meet Our Dentists
The talented team of Morristown dentists here at Aesthetic Smiles of New Jersey is trained and experienced with many of the most advanced and effective dental procedures available. Our dentists are members of several accredited dental organizations and are committed to providing you with personalized care and a beautiful, healthy smile.
Dr. Edward Romano
Cosmetic Dentist Dr. Ed Romano is a 20-year sustaining member of the American Academy of Cosmetic Dentistry and is a former President of the New Jersey chapter of that organization. He is known as a prolific lecturer and educator in the field of cosmetic dentistry, and is skilled with a full range of cosmetic, general, and restorative dentistry techniques.
Dr. Robert Bizzarro
Dr. Robert Bizzarro earned his Doctor of Dental Medicine from the University of Medicine and Dentistry of New Jersey. Dr. Bizzarro is talented and experienced with numerous general, cosmetic, and restorative dentistry procedures. He is particularly focused on care for young families and is skilled with a variety of dental treatments for children.
Learn more about Dr. Bizzarro
DR. KATHLEEN DUNN
Dr. Kathleen Dunn achieved her Doctor of Dental Surgery from the University of Medicine and Dentistry of New Jersey. She subsequently pursued further training in comprehensive restorative dentistry at Morristown Medical Center. Dr. Dunn is highly skilled performing procedures that involve rehabilitation of the teeth and gums, as well as cosmetic treatments designed to enhance the beauty of a patient's smile.
Learn more about Dr. Dunn
Dr. Beth J. Dorfman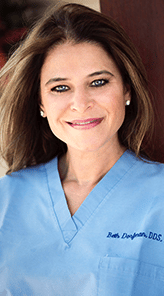 Dr. Beth J. Dorfman graduated from Texas A & M University Baylor College of Dentistry, where she earned her DDS with honors. She achieved the highest clinical achievements in Periodontology and Practice Management and the highest achievement in Operative Dentistry.